A Place to Learn and Heal
$15.00

$20.00

Poems for the Lost Deer -$15.00

Heart Path and Heart Path Handbook - $20.00

Path of the Heart CD - $15.00

plus $5 shipping and handling.

Payment to: Robin Lysne, rhlysne(at)cruzio(dot).com

P.O. Box, 2250 Santa Cruz, CA

95063-2250



Books are available through this website, through your local independant bookstore, and in person or at these events! For larger orders please email me at: rhlysne(at)cruzio(dot)com.
To purchase books through the website, see above:
East West Bookshop,

324 Castro Street, Mt. View, CA.
I do not use Amazon because I have never been paid through Amazon. Support your independant authors and buy from their websites.
$20.00
Clicking the button above or send me an email
rhlysne@cruzio(dot)com
. This book will teach you how to love yourself and connect with your spiritual guidance.
Here is what some are saying:
"Learning self-love is something everyone needs to learn. Heart Path offer readers a way to love themselves without limits."
John Gray, Men are from Mars, Women are from Venus
$15.00 The Path of the Heart Angels and Spirit Guides CD helps you find the path to your heart. It also helps you connect with your spiritual guides and angels. Offering you guidance and free-choice in creating your sacred space, a safe and nurturing place within, this CD is relaxing and healing as you listen to it. Use as a means to heal your heart's desire. The CD is professionally recorded, approximately 45 minutes in length with music by harpist Adam Free. Cost only $15.00. Pay through Paypal or contact. rhlysne(at)cruzio(dot)com or (831) 457-2483.
The images below are available for purchase in the form of greeting cards. The cards are $3.00 a piece, or 5 for $15.00. To purchase, you can email me, rhlysne (at) cruzio (dot) com and I can give you more details. Or connect with me on FB under Robin Lysne.
Author Robin White Turtle (Heerens) Lysne, M.A., M.F.A., Ph.D. offers you books that make a difference and turns our ordinary life into the extraordinary. She has two manuscripts currently seeking or pending publication and two of poetry. For more information or interest in her work call (831) 457-2483, or contact her via email rhlysne(at)cruzio(dot)com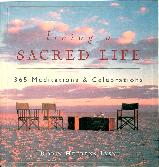 To buy this book click on the picture
Living a Sacred Life, 365 Meditations and Celebrations is a year-round guide to bringing spirit into your everyday life. This book includes hundreds of simple ceremonies, suggestions, meditations and holiday celebrations that are seasonal and metaphorically seasonal to our daily lives.
"A celebratory book of days which, with skill and verve, leads the reader to transform daily life into sacred time, sacred space--routine becomes rarified, and life moves from mundane to mystery." Jean Houston, author of A Mythic Life, Passion for the Possible and many others.
"A practical and Inspirational guide for using ritual and ceremony to support the mystery and joy of daily life, taking it out of the ordinary and into the extraordinary." Angeles Arrien, Ph.D. author of The Four-Fold Way and Signs of Life.
"I Loved this book...There is never enough of this kind of material!" Z. Budapest, author of Summoning the Fates and many others.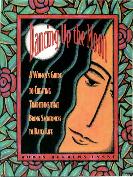 This book is available only by sending Robin an email rhlysne@cruzio(dot)com. The cost is $12.95 plus shipping add $5.00
Dancing Up the Moon, A Woman's Guide to Creating Traditions that Bring Sacredness to Daily Life, brings more meaning into everyday life.
"As women we have always honored the sacred by being the keepers of tradition, we organize parties, send cards, and cook the food for birthdays and holidays. In this book you will find other ways to bring the sacred into daily life that extend naturally from what we do already." writes Robin Lopez Lysne. True stories infused with poetry that sets off each chapter, Dancing Up the Moon supports life-changing passages such as conception, birth, and puberty as well as career change, new friendships, death and divorce.
"This heart felt book offers simple and effective ways to experience the power of your connections to enrich your daily life. A real gift for anyone who has longed to deepen their connections or experience their connectedness to others or larger realities for the first time."Rachel Naomi Remen, M.D. Medical Director, Commonweal Cancer Help Program, author of Kitchen Table Wisdom
PORTRAITS


New! Paintings of you and your divine guidance!
Robin now combines her paintings and readings. Check out some of the images below by clicking on the image to view a slide show! To order send her an email,
and she will share with you
the next steps to receiving your
Spirit Guide or Angel Painting.
Robin is also working on a series of paintings, some exhibited below, that exemplify what she sees in the human energy field, and how those configurations are healed with self-love. These will be part of her next book called:

Heart Path Handbook, Teaching Self-Love for Therapists, Healers and Visionaries

- a book for those who want to accellerate healing
in themselves and others for the good of all beings.
All these images are copyrighted and may not be reproduced without written permission of the author/artist. For pricing, call or email Robin White Turtle Lysne, at (831) 457-2483 or rhlysne(at)cruzio(.) com
Stories, Poetry, Self-Help to feed the soul.....
Wake-Robin
Trillium Ovatum
Any Spring, in

the time of Trillium,

white petals

open only to filtered light

wet earth from the first rains

fills them

six yellow stamens,

three-lobed pistil

tie each blossom into

three green open hands.

As these woodland flowers age,

pale pink

brushes the white slowly

on the edges at first.

As more flowers bloom,

bees pollinate

sucking their sweetness,

so they become

more than they were

in their bulbous heart.

As they fade,

dark magenta floods

their faces, edges curl.

Their color

signals

the grandmothers

blood held inside

yet



sings brightly

among the virgins.

More beautiful

as they age,

they are a sign

to me,

of how

to live

an elegant

and

continuous
flowering.